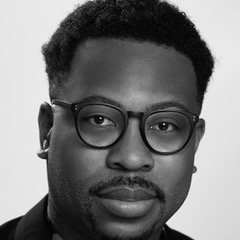 Stephfond Brunson
Joins The Paul Robeson Performing Arts Company (PRPAC)
Syracuse, NY – The Paul Robeson Performing Arts Company (PRPAC) has announced the appointment of Stephfond Brunson as Executive Artistic Director.
Brunson will be responsible for overseeing PRPAC's day-to-day operations, which include the selection of productions, recruiting performers and vendors, cultivating new income streams, managing budgets and overseeing all aspects of the artistic production of the organization. He will be focused on community relations and bringing new audiences to PRPAC.
"During these unprecedented times, we have a unique opportunity to rebuild and reimagine the next chapter of the Paul Robeson Performing Arts Company, ensuring that it remains an integral part of the Central New York Theater Community. I will advocate for a focused lens on diversity, inclusion and social justice awareness throughout my tenure and I look forward to being an authentic voice as part of a cultural institution that is actively working to uphold these values," said Brunson
Stephfond Brunson is no stranger to area theater, having made his mark on the stage as well as behind the scenes as an actor, director/choreographer, and theater management professional. Previous credits include Ragtime (Booker T Washington), The Music Man (Marcellus), Dreamgirls (C.C.), Noises Off (Tim), The Wiz (Scarecrow); choreography credits include Avenue Q, 13 The Musical, Anything Goes, Urinetown, Anything Goes, Footloose, I Do I Do, The Wedding Singer, Reefer Madness, Spamalot, Gypsy, The Wild Party; and directing credits include Mamma Mia, 9-5 The Musical, How I Learned to Drive, Drowsy Chaperone, The Best Little Whorehouse in Texas, Gypsy, and The Wild Party. He has provided years of essential administrative support and production assistance, most recently with Broadway veteran Hunter Foster.
"We welcome Stephfond to the PRPAC family and the infectious excitement he has already brought to this leadership role," said Charles Anderson, Interim Board Chair of PRPAC. "Our all-volunteer Company is heading into its 40th year," he added, "more than ready for revitalization and growth!"
Founded in 1982, the mission of The Paul Robeson Performing Arts Company is to offer multicultural experiences that enrich the diversity of the African American tradition by developing artists, of all ethnic cultures, and bring high quality theater performances to the Central New York community that educate, create dialogue and ignite change. Programming announcement coming soon.
# # #