The presence of The Paul Robeson Performing Arts Company, in the Syracuse/CNY community, fills a void in theatre experience choices, by giving voice to our own stories and experiences that will educate, create dialogue and ignite change. Since 1982, The PRPAC has ​enhanced the community with rich culture in the performing arts out of the African American tradition. Today we continue to serve as a cultural outlet, striving to open the eyes and ears of those who are not aware that our Black and brown heritage is a major component of our country's past, present and future.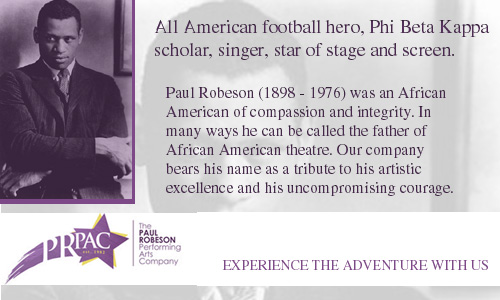 The PRPAC stands on the shoulders of this outspoken humanitarian and performer.


Exceptional athlete, actor, singer, cultural scholar, author, and political activist.

1920s and 1930s, widely acclaimed actor and one of the most popular concert singers of his time.


One of the first Black actors to play serious roles in the primarily white American theater.


His "Othello" was the longest-running Shakespeare play in Broadway history, nearly three hundred performances.

Equally well-loved internationally, spoke fifteen languages, performed benefits throughout the world for causes of social justice.


His outspoken beliefs made him enemies among those trying to maintain the status quo.


Every attempt was made to silence and discredit him, in 1950 his passport was revoked.


He could no longer travel abroad to perform, which was devastating to his career.


His accomplishments remain obscured by the vicious, relentless propaganda.


He believed the famous have a responsibility to fight for justice and peace.
---
Reorganizing and rebuilding PRPAC have been underway. We are grateful to the Central New York Community Foundation for awarding PRPAC a Black Equity & Excellence grant to support our Preserve and Grow project.

---
Heavy hearts within the PRPAC family!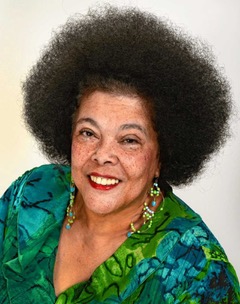 Jackie Warren Moore

*******************

The awesome poet, playwright, theatrical director, teacher, freelance writer, actor and activist, Jackie Warren-Moore has left this earth.
-------------------

Our condolences to the Warren Moore family members, many, of whom, were PRPAC performers: Jackie's daughters Andrea and SonCeria, grandson Ramone, and granddaughter, Nya. "May you rest in perfect eternal peace, dear Jackie!"
------------------------

**Take a moment to revisit the tribute to her in the "Robeson & Company Community Celebration," (YouTube video on the right)**

In case you missed it, we encourage you to take time to enjoy "ROBESON & COMPANY COMMUNITY CELEBRATION," a half-hour, family-friendly "virtual" celebration of PRPAC talent and partners, past and present. We thank YOU for your ongoing support over these 35-plus years.
---
This project is made possible with funds from NYSCA and the Decentralization Program, a regrant program of the New York State Council on the Arts with the support of Governor Andrew Cuomo and the New York State Legislature and administered by CNY Arts.


---
SAVE THE DATE and watch for details
November 15th at 6pm
GRATITUDES & MEMORIES
PRPAC alum, audience members and supporters are invited to this virtual
"Breaking Bread and Telling Stories" event
Featuring Chef Q and Hosted by Sonita L. Surratt.

PS - Stay tuned for the exciting announcement about Sonita and PRPAC. Having just directed PRPAC's summer production of "Comb Your Hair (or You'll Look Like a Slave)," she has many more of her award-winning talents to share!


---------------------
PRPAC welcomed back Sonita L. Surratt, "Comb…" director- PRPAC's production of "Having Our Say, The Delaney Sisters First 100 Years," was directed by Ms. Surratt in 2010 at the Black Box Theatre (CFAC). Two nights of sold-out performances!... "
Thanks for the memories!"

She is an award winning classically trained vocalist, playwright, actor, director, sound designer, Artist in Residence at Purdue University's Black Cultural Center, and a member of the Stage Directors' and Choreographers' Society. Following military service, Surratt pursued her theatre passion by obtaining a BA in Music from Geneseo and an MFA in Theatre from Syracuse University. Her diverse experience, among many, encompasses opera stages, off Broadway and touring with Opera in the Hood.
Alums - Celebs - Comments or Videos

Sneak peak at KMP rehearsal
I hold the Robeson Company close to my heart. It provided me the opportunity to grow as an artist and educator. It also provided an opportunity for many children to develop and express their young 'voices' and lastly, there was representation. They saw other Black people doing positive work. It will be exciting to see what the 'revitalization' yields for the Syracuse community.