What's Going on with PRPAC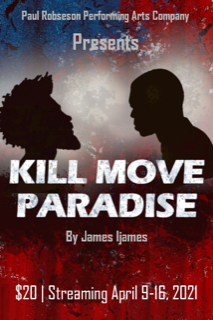 James Ijames's Kill Move Paradise tells the story of Isa, Daz, Grif, and Tiny, four Black men who find themselves stuck in a cosmic waiting room in the afterlife. Inspired by the ever growing list of slain unarmed Black people, this play depicts these men as symbols of life and hope.
Gone but never forgotten, Kill Move Paradise illustrates the possibilities of collective transformation and radical acts of joy.
The PRPAC is proud to support newly appointed Executive Artistic Director, Stephfond Brunson, in the production of Kill Move Paradise.
Streaming April 9 through 16, Stephfond says he selected this play for PRPAC's season opener because, _"it is a beautiful and smartly written play about the experiences of black men in America,"_and _"will challenge audiences from all backgrounds to confront their biases when a black child asks us directly, 'Am I scary?' "

Save a date and be sure to share this with others. Thank you!
Paul Robeson Performing Arts Company presents Kill Move Paradise, written by James Ijames. Streaming April 9-16, 2021 $20.00
Please use this link to purchase tickets: https://www.showtix4u.com/event-details/49157

Watch for PRPAC 2021 Season Announcements
* COMB YOUR HAIR (or you'll look like a slave)

* PROJECT 1 VOICE

* MUSICAL (tba)
---
PRPAC invites you to submit pictures, programs, and any archival material from past productions. Visit often, as this webpage expands to reflect the 39 year contribution of Syracuse community members.
---